2015/04/29

The new 1/1000-second Chronograph watches
Full-featured chronograph watch measures 1/1,000 of a second

CITIZEN PROMASTER Eco-Drive* Racing Chronograph
Analog/digital model targeting motor sports lovers
CITIZEN is pleased to announce the launch of three new Eco-Drive Racing Chronograph models in the PROMASTER LAND line. CITIZEN's PROMASTER brand has long enjoyed high regard among professionals for durability, functionality, and ultimately a capacity to capture the imagination of users around the globe. These new models are full-fledged chronograph watches combining analog and digital functions.
This new Eco-Drive Racing Chronograph features both analog and digital displays. The analog display makes it easy to read time, while the digital display delivers a number of advanced functions. The most exciting function of this watch is its ability to measure up to 1/1,000 of a second (displayed digitally), which is an important unit of measure in motor sports. Once the course distance has been input in Racing Mode, the watch can measure average speed and top speed for circuit use. Measurements of 1/10 and 1/100 of a second are shown in analog style. Users will be fascinated watching the 1/10 and 1/100 second chronograph hands turn with lightning speed and the futuristic functions on the digital display. World Time function also shows the time in 43 cities quickly on the digital display. All these various functions are controlled by the "U700" movement, CITIZEN's industry-leading chronograph movement that manages both analog and digital technologies with the highest performance. The watch design is inspired by the aggressiveness of motor sports and the exquisite toughness of a racing car.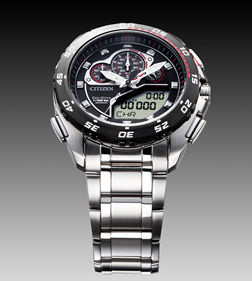 CITIZEN's proprietary Eco-Drive* technology can generate power from any light source— artificial, natural and even dim light—to keep watches running without ever replacing batteries. CITIZEN Eco-Drive products are the first in the watch industry in Japan to be certified by the Eco Mark environmental program.
【Product features】
Measuring 1/1,000 second – a key unit of measurement in motor sports

The CITIZEN PROMASTER Eco-Drive Racing Chronograph is a full-featured chronograph watch capable of measuring 1/1,000 second—a standard unit of measurement for professional motor sports. The 1/1,000 second measurement is shown as a digital readout on the LCD at the bottom right of the watch face. With prior entry of course distance in Racing Mode, average speed and top speed are displayed instantly for the use on the race circuit. LAP mode memorizes data for up to 20 measurements, which is convenient for keeping track of lap times. These modes enable the Eco-Drive Racing Chronograph to serve as professional measurement tool for motor sports. The sub dial at 12 o'clock shows 1/10 and 1/100 second chronograph measurements in analogue. The lightning fast rotation of the hand displaying the 1/100 chronograph is not only a fun to see but also evidence of the watch's high performance and precision.

Visit https://www.youtube.com/watch?v=U_PEuUzR40c
to see how quickly the 1/100 second chronograph hand turns.

Combining analogue and digital displays enables advanced functions

The watch's digital area shows 1/1,000 second chronographic measurements in Racing and LAP Modes (such as average speed, etc.), as well as World Time in 43 cities and a Dual Time function. Analog displays are available for 1, 1/10 and 1/100 second chronographs, making this watch capable of any type of time measurement. Large hour and minute hands ensure users can easily read the time, while luminous paint on the hands and indexes provides higher visibility even in the dark.

Design featuring a "cockpit" of racing car

The design of watch face betrays the spirit of racing. Sub dials for 1/10 and 1/100 second chronographs at 12 o'clock and sub dials for second chronograph at 10 o'clock in separate frames add depth for enhanced visibility. The watch case is hard and robust with an edgy streamline design that evokes a sporty feel. Elliptical push buttons attach to the case on a slant for easier operation. The leather band model features double-layered calf hide with a punched treatment on the surface that simulates car steering components.




Products

(CITIZEN PROMASTER) Eco-Drive LAND

Model No.

JW0126-58E

JW0127-04E

Case Material

Stainless Steel (Partial colored coating)

Stainless (Colored coating)

Band Material

Stainless Steel

Calf

Dial Color

Black

Crystal

Anti-Reflective Sapphire Value

Case Diameter/ Thickness

44.7mm/ 14.3mm(designed value)

Movement




Caliber: U700, Eco-Drive, Accuracy of ± 15 seconds per month, Power Saving function, Battery duration of approx. 7 years without recharging fully charged to empty with power saving operation, Chronograph (1/1,000-second, 1/100-second, 1/1-second, 24-hour watch), Lap time measurement, World Time in 43 Cities, Dual Time Display Function, Perpetual Calendars, Alarm, Timer (up to 99 minutes), Daylight-saving time function, Glow-in-the-dark, WR20





The final design and specifications are subject to change without notice.
Eco-Drive is a registered trademark of CITIZEN HOLDINGS CO., LTD.

About Citizen Watch

Citizen Watch is a true manufacture d'horlogerie with a comprehensive manufacturing process that extends from creating a watch's individual components to its final assembly. The company operates in more than 100 countries around the world. Since its founding in 1918, Citizen has held the belief of "Better Starts Now" — that is, No matter who you are and what you do, it is always possible to make something better, and now is the time to start doing it. Sharing this belief, we have made watches, invented and improved technologies and explored the future of watches such as our propriety light-powered technology "Eco-Drive" and state-of-the-art satellite-synchronized timekeeping.