2015/05/10

CITIZEN's "LIGHT is TIME" has won the "2015 Gold Pencil" of world's most prestigious advertising awards "One Show"
CITIZEN proudly announces that its installation "LIGHT is TIME" has won the Gold Pencil award in the Design category Experiences: Indoor Spaces at the 2015 One Show Awards. The coveted Gold Pencil awards are hosted by US-based The One Club, which is the world's foremost non-profit organization devoted to elevating creative work in the advertising industry.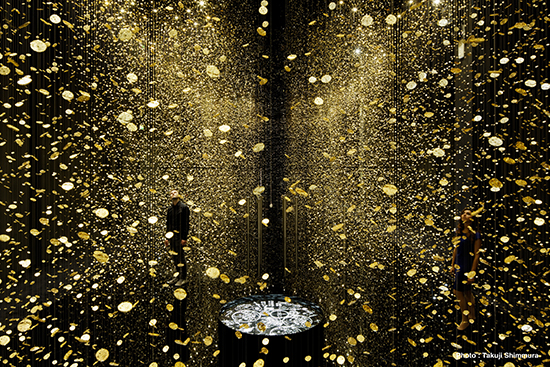 One Show 2015 : "Gold Pencil"
Title: LIGHT is TIME
Category: Design – Experience: Indoor Spaces
"LIGHT is TIME" was exhibited at the MILAN DESIGN WEEK, the world's biggest and most influential design event, held April 2014 in Milan, Italy. It created a magnificent space by suspending 80,000 main plates, the foundation supporting all other components of a watch. The combination of light reflecting off main plates and inspiring sound effects provided MILAN DESIGN WEEK visitors with a magical experience.
Displays inside the installation—ranging from the pocket watch where CITIZEN got its start to the latest satellite-synchronized watch, along with the sophisticated components that form those watches—led visitors to ponder the questions "Who is CITIZEN?" and "What is a watch?"
The installation is the result of collaboration between the CITIZEN design team and Tsuyoshi Tane, a member of the internationally acclaimed Paris architectural design firm DGT. Representing the elements of light and time, the installation was created from Mr. Tane's inspiration that "Light is time, because without light the concept of time never would have arisen."
The One Show advertising awards are hosted by the One Club, a New York-based organization. Since 1975, The One Club has been devoted to elevating creative work in the advertising design, producing annual award competition in six categories, including Advertising, Interactive, Design, Branded Entertainment, IP & Products and the Young Ones. The One Show is considered one of the world's "big 3" advertising awards together with Cannes Lions and CLIO Awards. A group of international judges, who are top-class creators from around the world, selects excellent creators and creative works of the year.
An experience of LIGHT is TIME is available at:
The One Show official website (http://www.oneclub.org/#olmag=/_ajax/archive/?action=arc_work%26value=22071)
Milan Design Week 2014 LIGHT is TIME virtual tour (https://www.youtube.com/watch?v=emUXDop7k9s)
About Citizen Watch
Citizen Watch is a true manufacture d'horlogerie with a comprehensive manufacturing process that extends from creating a watch's individual components to its final assembly. The company operates in more than 100 countries around the world. Since its founding in 1918, Citizen has held the belief of "Better Starts Now" — that is, No matter who you are and what you do, it is always possible to make something better, and now is the time to start doing it. Sharing this belief, we have made watches, invented and improved technologies and explored the future of watches such as our propriety light-powered technology "Eco-Drive" and state-of-the-art satellite-synchronized timekeeping technology "Satellite Wave".