2014/11/20

CITIZEN's first North America flagship store to open in Times Square, New York City as a catalyst to expand the CITIZEN Brand globally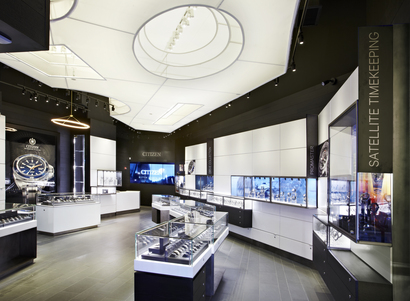 November 20, Tokyo, Japan - Citizen Watch Co., Ltd. announced the grand opening of the brand's flagship store in Times Square, New York City on November 19, 2014. Located at 1500 Broadway, this is the first CITIZEN Watch flagship store in North America. The 120m2 store will feature a full range of watches such as its flagship model "Eco-Drive SATELLITE WAVE F100" powered by Eco-Drive, CITIZEN's proprietary light driven technology.
By opening a flagship store at the epicenter of one of the world's most prominent destinations, CITIZEN will maximize the brand's visibility with the over 39 million tourists, travelers, commuters, and local New Yorkers that walk through Times Square each year. The store is designed to appeal to amateur and serious watch enthusiasts alike. It will serve as a world-class showcase for the CITIZEN Watch brand with state-of-the-art interactive and hands-on displays and exclusive offerings, as well as knowledgeable staff members who will be well versed in the art and science of creating watches that reflect the best of design and CITIZEN's own technologies.
Toshio Tokura, president and CEO of CITIZEN Watch Co. Ltd., commented, "We are pleased to announce the grand opening of this new flagship store at such a location known as 'The Crossroad of the World'. We expect that this store will be the place that enables more consumers to touch our brand and know more about our products and stories."
CITIZEN announced its first global brand statement this year, "BETTER STARTS NOW"; the simple belief that, no matter who you are and what you do, it is always possible to make something better. And now the brand is doing something better by opening this flagship store. CITIZEN expects this store will help to spread their message to even more people around the world.
CITIZEN currently has more than 100 retail stores including flagship store (as of November, 2014) globally. The New York- Times Square flagship store may be followed in the future by other flagship stores in prominent international cities.
About "The New York Times Square flagship store"
Store Name: The New York Times Square flagship store
Grand Opening Date: November 19, 2014
Opening Time: Sunday-Monday from AM 10:00 to AM0:00
Store Location: 1500 Broadway, New York
Timepieces:
The store handles a full range of watches featuring the newly released Eco-Drive SATELLITE WAVE F100, well accepted international models from Japan alongside a full offering from the brand's U.S. collections.
Displays/Store design
žInteractive tablet displays enable visitors to watch brand movies, explore the features and benefits of key new watch models or set their watches by following along with interactive setting instructions.
žA Co-Authorship display which will be curated quarterly by a rotating group of prominent bloggers will put CITIZEN's watches directly into the hands of consumer. Through photography, props and video content the bloggers will show how well Citizen watches integrate into a person's lifestyle.
žA digital guest book is available for visitors to sign up to receive newsletters from CITIZEN.
žJapanese cultures is integrated into the store design in such elements such as Japanese wood elements called Shou Sugi Ban*1 and a volume ceiling*2 that looks like Japanese silk lantern.
*1. Shou Sugi Ban is the wood element made by technique for preserving wood by charring it. The process involves charring the wood, cooling it, cleaning it, and finishing it with a natural oil. This wood is fire retardant and can last up to 80 years without the use of toxic chemicals.
*2. Volume Ceiling placed at the store is reminiscent of a Japanese silk lantern and not only pays homage to the brand's Japanese heritage, but also serves as an artistic representation of Eco-Drive, Light travels through the watch crystal and transparent watch dial until it reaches the power cell where it is charged.