2014/10/23

CITIZEN PROMASTER Eco-Drive AQUALAND Honored with 2014 Good Design Award
CITIZEN proudly announce
s
that the CITIZEN PROMASTER Eco-Drive
*1
AQUALAND dive watch has won the Good Design Award 2014, a much-coveted recognition organised by the Japan Institute of Design Promotion (JDP).
CITIZEN PROMASTER Eco-Drive AQUALAND
In 1985, CITIZEN launched the world's first dive watch to incorporate an electronic depth meter. For more than 30 years, we have continued to build on this achievement, developing various dive watches that incorporate sensor technologies for professional use. As an ISO-JIS-compliant
*2
watch with water-resistance up to 200m, the award-winning Eco-Drive PROMASTER AQUALAND is suited for the Expert range of the PROMASTER MARINE line.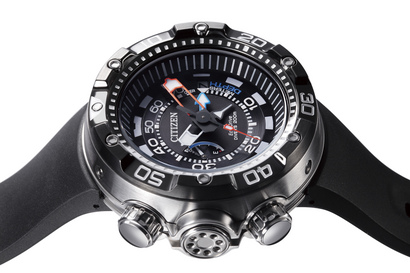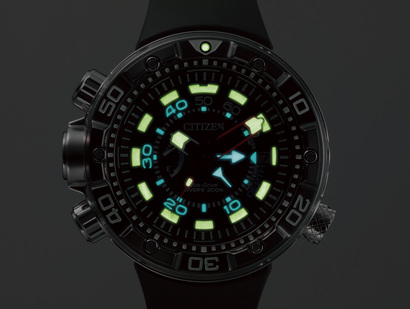 Among this model's key design enhancements:
Exterior casing features a clamshell design that protects the inside of the watch.

Robust, dual-structure case and other reinforced parts shield the movement.

Newly developed corrugated bezel ensures ease of operation even with gloved hands.

Unified bezel and case design prevents operational error even in the event of impact shock.
Additionally, large hands enable users to read time and depth at a glance. Luminous colour-coded paint on the hands and indexes — green for time and blue for depth — combined with a unique dial design make it easy to recognise information even when all five hands converge at the same position.
Deciding factor for the Award
In honoring the Eco-Drive PROMASTER AQUALAND, the award committee cited the watch's stylish contemporary design that incorporates advanced functions. Plus they approved the essential qualities that embodied the essence of a proper dive watch and what people expect it to be.
For more information on the Eco-Drive PROMASTER AQUALAND, please visit
http://www.citizenwatch-global.com/promaster/special/marine.html
*1: Eco-Drive is CITIZEN's proprietary technology that powers watches using any natural or artificial light source, eliminating the need to replace batteries.
*2: ISO (International Organization for Standardization) and JIS (Japanese Industrial Standards) define dive watch specifications to ensure the safety of divers. The Eco-Drive PROMASTER AQUALNAND is compliant with both the ISO 6425 Dive Watch and the JIS B 7023 Watch for Diving standards.
About Good Design Award
The Good Design Award stands as the sole comprehensive design evaluation and commendation system in Japan, which is hosted by the Japan Institute of Design Promotion. The Ministry of International Trade and Industry (former name of Ministry of Economy, Trade and Industry) established the award in 1957. Since then, many companies and designers from within and outside of Japan participate in the activity to enhance the industry of quality of life through design. The "G Mark," the symbol of the award has been recognised widely as a mark representing good design, and about 1,000 items are approved each year, or about 38,000 in total over the last 55 years.
http://www.g-mark.org/?locale=en