2015/03/11

CITIZEN first in the watch industry to win "Eco Mark Award 2014" gold prize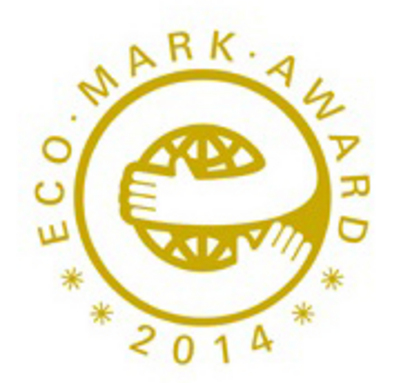 January 15th, 2015, Tokyo Japan ― CITIZEN proudly announces that it has won a gold prize at the "Eco Mark Award 2014" organized by the Japan Environment Association (JEA). This award recognizes CITIZEN's contribution to the improvement of consumer awareness about the environment through its Eco-Drive watches. It is the first time for a company in the watch industry to win the gold prize, the highest honor of this award.
The Eco Mark Award was established in 2010 by JEA to award companies and organizations that make superior efforts to produce and promote environmentally friendly offerings, such as Eco Mark certified products. The goals of the award are to help consumers make eco-conscious choices of products and recognize companies that contribute to a sustainable society by making their products more environmentally friendly.
Why the Judges Chose CITIZEN
In 1996, CITIZEN received Eco Mark product certification as the first company in the watch industry to produce watches featuring "Eco-Drive." This light-powered technology harnesses light from any natural or artificial source and converts it into energy for watches. Since then, CITIZEN has continued to lead the watch industry toward eco-consciousness through various efforts, such as making 99% of watches sold in Japan under the CITIZEN brand eco-friendly. These efforts include not only improvement of the performance of the environmentally friendly technology Eco-Drive but also fusing technology and beautiful design. The result is an attractive product lineup that allows consumers to choose a watch that not only matches their personal preference but also they can use for longer period.
CITIZEN has also contributed to the exposure of Eco Mark in various consumer-facing materials, including its product catalog, website, and in-store tools. This exposure has not only improved name recognition of CITIZEN's Eco-Drive technology but has also contributed to increasing consumers' consciousness about environmentally friendly products.
From CITIZEN about the Award
It is a great pleasure for CITIZEN that we have won the Eco Mark Award 2014 gold prize. In 1970s, when quartz watches came onto the market as a major breakthrough in watch industry, CITIZEN already realized an issue caused by used batteries and began developing a light-driven watch. This resulted in the world's first light-powered analogue quarts watch in 1976.
Having overcome numerous hurdles to improving on the technology, this innovation was launched in the worldwide market in 1995 under the Eco-Drive name. Refinements of this technology have been ongoing. Now, it has won the confidence of the global audience, and environmentally conscious Eco-Drive is a key component of CITIZEN brand.
One major recognition of our efforts to improve this technology was receiving Eco Mark product certification in 1996—the first company in watch industry to achieve this honor. CITIZEN views the Eco Mark as evidence of the value that our technology offers to our consumers and society. Achieving this recognition has further encouraged us to drive forward with improving our technology and product lineup. This includes the newly introduced the Eco-Drive SATELLITE wave F100 that features the world's fastest*1 signal reception speed of as little as 3 seconds, which was developed and produced pursuing better usability for consumers.
So to live up to the status of a first watch company to receive Eco Mark product certification and an Eco Mark Award gold prize, we intend to keep working to promote Eco Mark and contribute to a more sustainable society.
*1: As of June 2014 as a light-powered analogue watch (according to the research data by Citizen Watch Co., Ltd)
Eco-Drive is registered trademarks of CITIZEN HOLDINGS CO., LTD.
About Citizen Watch
Citizen Watch is a
true manufacture d'horlogerie
with a
comprehensive manufacturing process that extends from creating a watch
'
s individual components to its final assembly. The company
operates in
more than 100 countries around the world. Since its founding in 1918,
Citizen
h
as
held the belief
of
"
B
etter
S
tarts
N
ow
"
—
that is,
No matter who you are and what you do, it is always possible to make something better, and now is the time to start doing it.
Sharing t
his belief
,
we
have made watches
,
invented and improved technologies and explored the future of watches
such as our
propriety
light-powered technology
"
Eco-Drive
"
and state-of-the-art satellite-synchronized timekeeping.