2017/04/18

CITIZEN BASELWORLD 2017 - CITIZEN "PROMASTER"
A brand that drives imagination in a high-function sports watch for professionals
CITIZEN "PROMASTER" professional sports watches-master the Marine, Land, and Sky

World's first *1
light-powered watch for
1,000m saturation diving*2
Eco-Drive*3 Professional Diver 1000m
Summer 2017
BN7020-09E
USD 2,300
Altimeter that
measures
up to 10,000m
Eco-Drive ALTICHRON
Summer 2017
BN4044-15E
USD 660
World's fastest *4
GPS signal reception speed *5
in 3 seconds
Eco-Drive SATELLITE WAVE GPS
Summer 2017
CC9023-13X
USD 1,650
At Baselworld 2017, CITIZEN's professional sports watch brand "PROMASTER" will present 3 new models from all its categories for professionals; MARINE, LAND, and SKY. Since its launch in 1989, PROMASTER has been a firm favorite with professionals who challenge their limits, withstanding the toughest of conditions, achieving top endurance, and offering numerous superior functions for different fields.

For the climbing, diving, and aviation enthusiasts across the world, CITIZEN has detailed out the specific conditions and introduced 3 categories –MARINE, LAND, and SKY – to offer the ideal functions and specs for each scene.

The challenge for the professionals is not just pushing their physical but also their mental boundaries. This is why PROMASTER is equipped with high functionality, durability and safety with designs that exude confidence and class to drive them to go beyond their 'imagination'.


KEY MESSAGE:
GO BEYOND.
THE THREE VALUES

Functionality
enabled by innovative technology to inspire people to push boundaries.
Durability
to withstand extreme environment that gives people the confidence to take on new challenges.
Safety
assured by elevated quality and specs that make PROMASTER the ideal partner for people who challenge their limits.
*1 As of February 2017, according to research by Citizen Watch Co., Ltd.

*2 Saturation diving: Saturation diving is a special type of diving that enables divers to conduct long-term operations at depths where air diving is no longer possible. Professional saturation divers spend several weeks living in the pressured capsule filled with a mixture of oxygen and helium, and conduct operations.

*3 Eco-Drive is CITIZEN' s proprietary technology that powers watches using any natural or artificial light source, eliminating the need to replace batteries. Certified as an Eco Mark product for the first time in the watch industry.

*4 As of February 2016, for a light-powered GPS satellite-synchronised watch, according to research by Citizen Watch Co., Ltd.

*5 SATELLITE WAVE GPS Watch captures the date and time signals sent by GPS satellites from space – orbiting 20,000km above the Earth – brining ultra-precise timekeeping to wherever people are on the face of the globe
World's first light-powered watch
for 1,000m saturation diving


CITIZEN PROMASTER
Eco-Drive Professional Diver 1000m
Summer 2017
BN7020-09E
USD 2,300
ISO *6 compliant―Light-powered technology "Eco-Drive" x Water resistance for 1,000m saturation diving.
The Eco-Drive Professional Diver 1000m is ISO compliant diver's watch that can performs even in saturation diving environment. The escape valve set at 10 o'clock on the case side releases the helium gas that enters the watch during saturation diving to prevent any damage or rupture upon the movement.
There is no need for regular battery replacement thanks to the Eco-Drive technology. The Power Reserve Indicator tells divers the remaining battery charge so that they can enjoy diving worry free.
To achieve an even higher practical functionality, CITIZEN conducted verification and validation testing with cooperation of JAMSTEC *
7
(Japan Agency for Marine-Earth Science and Technology), the research authority in Japan, to conduct a leak test and examine the effects of high water pressure to check waterproof performance in a high-pressure environment as well the dial visibility, and luminous features in deep waters.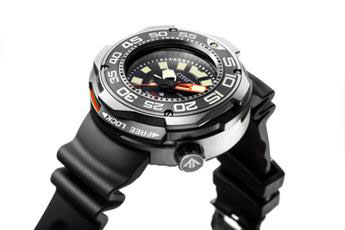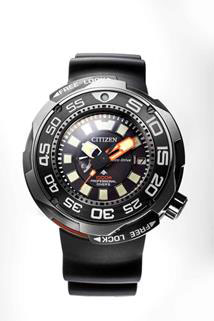 3 key factors that cement the trust in the diver's watch


Unidirectional bezel/ Bezel-locking mechanism
We made the bezel of the PROMASTER unidirectional in line with the ISO standard for diving watches. This improves safety by eliminating the danger of a diver accidentally turning the bezel the wrong way during a dive. The Eco-Drive Professional Diver 1000m model is equipped with a bezel-locking mechanism.



Luminous hands and dial for high visibility
PROMASTER's photo-luminescent markings absorb light fast and stay bright for a long time. We made sure that a generous proportion of the hands is coated in luminous material and tested a range of colours before selecting the most visible ones. The luminous materials used for this model has more than twice the afterglow brightness than a conventional material even after 5 hours. We use the material which does not contain any radioactive material.



Warning Colour
When the bezel lock is set to FREE, the orange warning colour is appeared to warn the user. The crown also has a same mechanism, revealing an orange colour between the case and the crown to tell the owner when the crown is not correctly pushed into a lock mode.
Culmination of the expert technologies that achieve high durability and water resistance function
A diver's watch that performs with 1,000m saturation diving must not only pass the water resistance test, but also a test to keep performing for 15 days in a pressurized chamber that contains helium and oxygen or even 100% helium gas and then revert back to atmospheric pressure within 3 minutes after high-speed decompression. The pressure is an unimaginable 125 barometer which demands high durability and water resistance function. This is a world's first as a light powered watch.
CITZEN's proprietary titanium material, Super Titanium
™*8
has various surface-hardening technology which is expertly used to offer the functions required for each of the parts to collectively achieve a robust surface finish. In order for the adjoining sections of the parts to also withstand the water pressure at 1,000 metres depth, we applied one of the hardening technology, "Duratect
*9
MRK" to the case when parts like the crown tube and the escape valve tube were already in place, we bonded the individual components to the case at the atomic level to achieve a higher level of adhesion. (The technical name for the process is "solid phase diffusion bonding.") The result was not just a tougher case surface, but durability capable of withstanding 1,000 metres of water pressure.
Inspired from the turban shell structure

The Eco-Drive Professional Diver 1000m takes its design inspiration from the shape and structure of a turban shell. The durability and power of this shell case design was tested to the limits in successfully producing a professional grade light powered dive watch with a water tight fit to 1000 metres.

The directional bezel design




Case side that emulates
The brick structure


The hardness of the shell comes from its brick structure which was reflected to the case side. The spiral structure of a turban shell gives the directional design to the bezel which is not simply an iconic design but functions as a way to intuitively inform the direction of the bezel.
[Product Specification]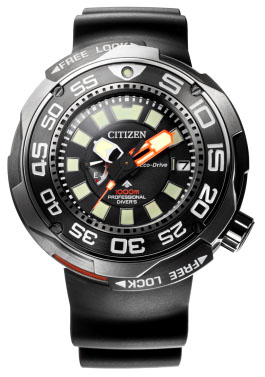 PROMASTER Eco-Drive Professional Diver1000m
Ref
BN7020-09E
Launch
Summer 2017
Suggested Retail Price
USD2,300
Case/Band
Super Titanium (Duratect DLC + MRK + TIC) / Polyurethane
Crystal
Sapphire Crystal (Anti-reflective coating)
Dial Colour
Black
Size
diameter 52.5mm / thickness 21.4mm *Design specification only
Movement
Cal.J210 / Accuracy of ±15 seconds per month / Eco-Drive /
Runs for about 1.5 years on full charge / Unidirection bezel / Bezel lock mechanism/ Calendar / Power reserve indicator *10/ 1000m water resistance (saturation diving) / Luminous (hands, index, bezel at 12 o'clock)
Other
Band extension
*6 ISO: International Organization for Standardization 
"ISO 6425 diver's watch" for all diver's watch for the safety of the divers.

*7 :JAMSTEC is a national research and development agency under the Ministry of Education, Culture, Sports, Science and Technology. It contributes to the advancement of academic research and improvement of marine science and technology through basic research and development based on ideals of peace and human welfare.

8 : Super Titanium™ is CITIZEN's proprietary technology to treat solid titanium with CITIZEN's proprietary surface hardening technology, Duratect. It is at least 5 times harder and about approximately 40 % lighter than stainless steel.

*9 Duratect is surface hardening technology exclusively developed by CITIZEN to maintain the luster and beautiful finish of watches. Treating materials such as titanium and stainless steel with this technology improves the hardness of the material' s surface, making watch cases and bands resistant to scratches.

*10 Power reserve indicator: Displays the remaining power of the secondary battery used for Eco-Drive.
A light-powered watch with altimeter
that can measure up to 10,000m


PROMASTER
Eco-Drive ALTICHRON
Summer 2017
BN4044-15E
USD 660

Introducing a new design from "Eco-Drive ALTICHRON," equipped with the CITIZEN advanced technologies including altimeter that can measure up to 10,000 metres.

The Eco-Drive ALTICHRON can measure far beyond any mountains around the world from -300metres (under sea level) to 10,000 metres.With all the information displayed in analogue rather than digital format, there is no need to switch away from the all-important time display to check altitude or orientation. It is designed for users to operate its functions intuitively by coding the hands colours that show time and other information and making the dial layout simple.

This new "Eco-Drive ALTICHRON" with basic colour of black is designed as a chic watch that is perfect not only for outdoor but also for business scenes. The outdoor-style watch with the all-new design that looks great for any scene is the perfect addition to our proud collection.
[Product Specification]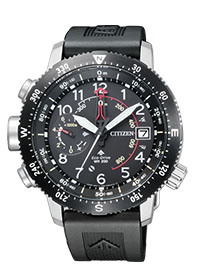 | | |
| --- | --- |
| | PROMASTER Eco-Drive ALTICHRON |
| Ref | BN4044-15E |
| Launch | Summer 2017 |
| Projected Price | USD 660 |
| Case/Band | Stainless steel / Polyurethane |
| Crystal | Crystal (Anti-reflective coating) |
| Dial Colour | Black |
| Size | diameter 46.0mm / thickness 14.4mm *Design specification only |
| Movement | Cal:J280 / Accuracy of ±15 seconds per month / Eco-Drive / Runs 11 months on full charge / Altimeter (-300m to 10,000m) / Electronic compass / Calendar / Power reserve indicator / WR200 / Luminous(hands+ index) |
Pilot watch that receives time signal from GPS satellites
as little as 3seconds


CITIZEN PROMASTER
SATELLITE WAVE GPS
Summer 2017
CC9023-13X
USD 1,650
Limited Edition (700

A new face will join the premium model in the PROMASTER SKY category, the SATELLITE WAVE GPS. This is a multi-function model with dual-time display, chronograph function among other features. The design was inspired by the coordinate axis on radar screens and the airplane cockpit displays while the brown dial colour and the gold case brings out its iconic glamour.
It features the light, scratch-resistant, kind-to-skin, and anti-corrosion Super Titanium™ case with a Duratect GOLD coating with its super-hardness of Hv1,100 – 1,500. The pilot watch with the essential timekeeping precision and other features that withstand challenging conditions welcomes the new model, expanding the world of SATELLITE WAVE GPS.


Duratect GOLD
[Product Specification]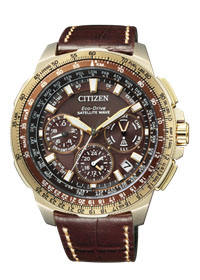 | | |
| --- | --- |
| | PROMASTER SATELLITE WAVE GPS |
| Ref | CC9023-13X |
| Launch | Summer 2017 |
| Projected Price | USD 1,650 |
| Limited Number | 700 pcs |
| Case/Band | Super Titanium(Duratect Gold) / Calf skin |
| Crystal | Sapphire Crystal(anti-reflective coating) |
| Dial Colour | Brown |
| Size | diameter 47.1mm / thickness 14.6mm *Design specification only |
| Movement | Cal: F900/Accuracy of ±5 seconds per month / Eco-Drive / Runs for about 1.5 years on full charge(5 years when power-save is on) /Satellite timekeeping system・Global positioning system・Auto time reception function /World Time in 40 Cities / Calendar / Power Reserve Function*11 / Dual Time Display Function / Chronograph of 1/20-seconds measurement for 24 hours / Alarm function /Power Reserve Indicator / Light-Level Indicator*12 / Perpetual Calendar/ Summer Time Function / WR200 / Luminous (hands/ index) |
| | |
| --- | --- |
| *11 Power save function: When the light-powering stops in darkness, the hand automatically stops to save energy. Once light is detected, it resumes its function and automatically adjust to the correct time | *12 Light-Level Indicator detects and displays the intensity of light striking the dial (which generates electricity to run the watch) in seven levels, allowing wearers to easily gauge the charge level in any given situation. |
The final design and specifications are subject to change without notice.
Eco-Drive, Super Titanium, Duratect, Perfex, and Light-Level Indicator are registered trademarks or trademarks of Citizen Watch Co., Ltd.


<About CITIZEN WATCH>

CITIZEN WATCH is a true manufacture d'horlogerie with a comprehensive manufacturing process that extends from creating a watch' s individual components to its final assembly. The company operates in more than 130 countries around the world. Since its founding in 1918, CITIZEN have held the belief of "Better Starts Now" — that is, no matter who you are and what you do, it is always possible to make something better, and now is the time to start doing it. Sharing this belief, we have made watches, invented and improved technologies and explored the future of watches such as our proprietary light-powered Eco-Drive technology and state-of-the-art satellite-synchronised timekeeping.