2017/04/25

CITIZEN BASELWORLD 2017 - CITIZEN L
An ethical approach to product making
A new style of luxury watch,
CITIZEN L
CITIZEN L
Limited Edition (3,000pcs worldwide) 
EW5524-16E
USD 1,040  Autumn 2017
CITIZEN is pleased to announce the release of two new models from CITIZEN L at Baselworld 2017. The first model is from the Ambiluna collection—in its second year, the new Ambiluna features a limited colour to the lacquer-made
Urushi
-drop and comes with a special bangle. The second model is playful yet elegant design with large diamonds.
CITIZEN L is a ladies' watch brand from CITIZEN which launched in Europe and North America in 2012 and now available in nearly 50 countries globally. CITIZEN proposes a new style of luxury watch for women who embrace their lives in the 21
st
century with beauty and power, having Yoshiko Ikoma as the brand advisor since 2016. CITIZEN defines 'luxury' as not a superficial glamour but the rich story and care that drives our product creation. This means disclosure of product material chart, commitment to being DRC conflict-free as well as our carbon footprint*.
*see attached
Also, by featuring Eco-Drive*
1
which keeps the watch ticking with any light source, anywhere in the world, all CITIZEN L watches produce no battery waste which is one of the many ways CITIZEN is working to create products that are socially and environmentally conscious.
Brand Concept
"Beauty is Beauty"
"Beautiful things come from a beautiful state of mind. Inner beauty always shines through."

CITIZEN L
is a new lady's watch brand that
has the attractive jewelry-like design
and features light-powered Eco-Drive,
based on CITIZEN's ethical productmaking.

*1: Eco-Drive is CITIZEN' s proprietary technology that powers watches using any natural or artificial light source, eliminating the need to replace batteries. Certified as an Eco Mark product for the first time in the watch industry.




Ambiluna Collection

CITIZEN L Ambiluna Collection
Limited Edition
EW5499-54A
USD 1,000 Autumn 2017


To not 'see' but 'feel' time.
A new concept in a watch with moon-glazed sapphire crystal
World limited edition supervised by the architect, Mr. Sou Fujimoto


CITIZEN is proud to announce the release of the world's limited edition of Ambiluna, a conceptual collection from CITIZEN L in Autumn 2017. The architect, Mr. Sou Fujimoto, recognized for his novel approach to architecture embodied in various global projects, continues to oversee the brand as its advisor.
Design theme of Ambiluna, moon-glazed sapphire crystal, expressing the absolute light

| | |
| --- | --- |
| "Absolute light," - a concept proposed by the architect, Sou Fujimoto. It is a new design-led approach to watch that tells the concept of ambiguous time with the transience of light. The key feature is the moon-glazed sapphire crystal that takes its image from a soft and misty moon light. The rich expression of the gradual shift in the light is created by frosting a highly-translucent sapphire crystal. It is an entirely new concept in watches where it is not a tool to check time but to put on light itself. This moon-glazed sapphire crystal is featured in all Ambiluna models. | |
Limited Edition: the presence of shadow that accentuates light
The distinctive motif at the 11 o'clock position is
Urushi
drops, a modern rendition of Japanese tradition of lacquer art of Urushi which is carefully crafted by time honored "
Urushi
Sakamoto." The exquisite gradation of silver to black that extends inwards gives it a chic yet deep radiance in the light, like "Starry clouds". By applying black colour to the design, we want to highlight the presence of shadow that in fact accentuates light, hence the design concept "absolute light" is more highlighted. A single diamond is set between the case and
Urushi
drop, giving a beautiful tension in the design while functioning as an index to show 12 o'clock.
Special bangle: "Ring of Light"

| | |
| --- | --- |
| This special bangle is designed for CITIZEN L by the artist duo, "MONOCIRCUS." Inspired from the theme, "absolute light", the design aimed to give shape to rings of light. The 3D printer-based design allowed the freedom for a complex geometric shape, giving the bangle a unique appeal. Let the bangle together with the watch bring a beautiful accent to your wrist. | |
CITIZEN L Ambiluna Collection
Ref.
EW5499-54A
Launch
Autumn 2017
Projected price
USD 1,000
Limited Number
1,000 sets worldwide
Case / band
Stainless steel(with Urushi drop 1 diamond)/ stainless steel
* Silver powder is used for Urushi drops.
Crystal
Sapphire Crystal
Dial colour
White
Size
diameter 27.3mm/ thickness 9.4mm
*Design specification only
Movement
Caliber:B035 / Eco-Drive / Accuracy of ±15 seconds per month /
Runs 7 months on full charge / WR 50
Carbon footprint
6.1kg
Other
Special bangle (brass + rhodium plating)
Special Collaboration


Bangle; Monocircus
Established in 2011, Monocircus is about creating various forms of art and design works, ranging from small objects such as jewelry to large-scale art and architectural works with a key concept of seeking ways to constantly enrich daily life with Art and Design. 3D Printing technology is one predominant method that is employed to develop the various signature products of Monocircus.

URUSHI:SAKAMOTO CO., LTD
Founded in 1900, URUSHI SAKAMOTO CO., LTD is a renowned, long-established Japanese lacquer manufacturer. Under the theme of "Infusion of tradition and modern concepts," its wide product lineup ranges from accessories to industrial products. Currently URUSHI SAKAMATO CO. is establishing partnerships with companies from various industries to communicate the excellence of Japanese lacuquerware worldwide.


Elegant watch that entices with large diamonds

In pursuit of beauty in the eternal design of a watch, CITIZEN L.
The new model accentuated by large 5 diamonds



With a large diamond droplet, inspired from oasis

Like an oasis that breathes life into a bare land, the large diamond piece sits between the case bezel and the surrounding ring which rotates itself as it freely moves like an arc giving off that iconic glow. 4 other diamonds are embedded onto the super-translucent sapphire crystal, conceiving a beautiful 4-diamond layer with those placed on the dial. Together they conjure an image of water and vivacious bubbles welling up from earth.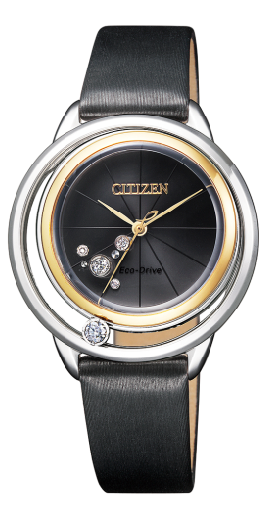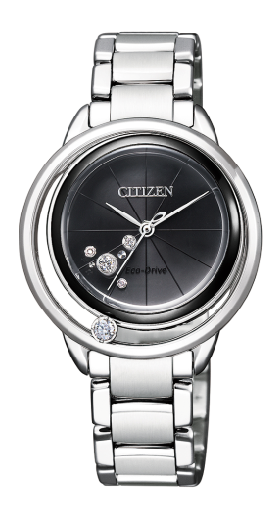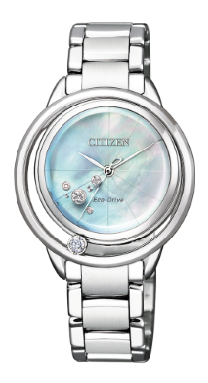 CITIZEN L
Ref.
EW5524-16E
EW5520-84D
EW5528-82E
Launch
Autumn 2017
Projected Price
USD 1,040
USD 1,140
USD 1,150
Limited Number
3,000 pcs worldwide
Case / Band
Stainless steel (with 1 diamond) /
Synthetic satin leather
Stainless steel (with 1 diamond) / Stainless steel
Crystal
Sapphire Crystal (with 2 diamonds)
Dial
Black (with 2 diamonds)
Mother of pearl (with 2 diamonds)
Black (with 2 diamonds)
Size
diameter 32.5mm/ thickness 8.3mm *Design specification only
Movement
Cal: B036 / Eco-Drive / Accuracy of ±15 per month /Runs for about 7 months on full charge / WR 50
Carbon footprint
6.6kg
9.2kg
Total carat of diamonds
0.12ct
The final design and specifications are subject to change without notice.
Eco-Drive is registered trademarks or trademarks of Citizen Watch Co., Ltd.
The availability, specifications and related information such as product code for the models featured in this site, may vary by markets.If you would like to know more details, including the availability of this products in your area, please select your "Local Website" from our global site.
<About CITIZEN WATCH>
CITIZEN WATCH is a true manufacture d'horlogerie with a comprehensive manufacturing process that extends from creating a watch' s individual components to its final assembly. The company operates in more than 130 countries around the world. Since its founding in 1918, CITIZEN have held the belief of "Better Starts Now" — that is, no matter who you are and what you do, it is always possible to make something better, and now is the time to start doing it. Sharing this belief, we have made watches, invented and improved technologies and explored the future of watches such as our proprietary light-powered Eco-Drive technology and state-of-the-art satellite-synchronised timekeeping.